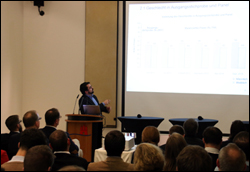 On November 18, the closing ceremony for our project "Political Communication in Times of New Information and Communication Technology", which was realized in cooperation with the Bonn Academy of Research and Teaching Practical Politics and YouGov, took place in the Federal State Representation Office of Hamburg in Berlin. Thorsten Faas and Benjamin Sack presented central results of a longitudinal survey, which was carried out in five waves from July 2013 to September 2015.
The so called "filterbubble" attracted special interest. The results show that facebook users and their friends, to a great extent, favor the same political parties. This tendency is even more pronounced for the "Alternative für Deutschland". Yet, it was not only because of this part of the talk that the hashtag of the event #pksm15 trended on twitter.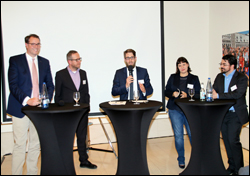 The following panel discussion, which was moderated by Christian Krell and in which Alexander Schweitzer, Holger Geißler, Jasmin Siri, and Thorsten Faas participated, centered around the new knowledge on the filterbubble. The idea of social media as a catalyst for political communication was disillusioned. Holger Geißler noted that social media is primarily "social", not "political". Alexander Schweitzer confirmed the filterbubble tendency from his own experience: Among his facebook friends the Social Democrats form an absolute majority.
There was also a stream on Periscope, which also attracted interest. The link will soon be published.