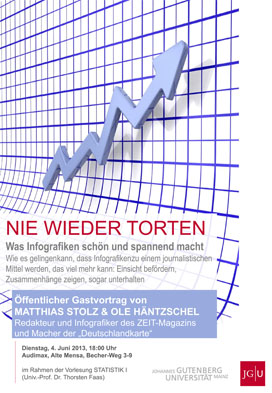 On June 4, Matthias Stolz and Ole Häntzschel – ZEIT magazine editor and graphic designer ("Deutschlandkarte") – are going to be our guests in the Statistik I lecture.
NIE WIEDER TORTEN
How infographics become appealing and exciting
The way of making infographics a stylistic device with informative and entertaining function
The lecture takes place in Alte Mensa / Audimax at 18.00.
The lecture is open to the public – everyone is welcome to come.