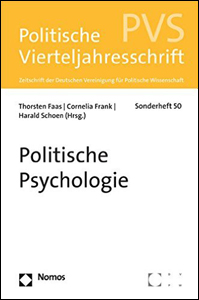 "Political Psychology tries to explain political phenomena in a diverse range of fields. This is true for the research on political elites as well as on mass politics, as can be proved by recent developments in the international scientific community. First steps towards this development can also be regarded in Germany, however, knowledge is still not satisfactorily transferred between the different branches of political science as well as between the fields of political science and psychology. With its focus on the cross-sectional topic of political psychology, the special issue wants to strengthen this perspective in German discourse and fill existing gabs." This was the aim that Thosten Faas and his co-publishers Cornelia Frank (University of Frankfurt) and Harald Schoen (University of Mannheim) formulated in their call for papers in July 2013.
The academic response was outstanding – more than 100 proposals were handed in from all branches of political research. After an internal and external reviewing process and an authors' conference in September 2014 in Mainz, the volume was published including 21 contributions. The table of contents can be found on the Nomos website.
The publishing of this volume would not have been possible without the support of numerous people and institutions. We would like to thank the board and advisory council of the German Political Science Association (DVPW), which chose the proposal.
Thorsten Faas, Cornelia Frank, Harald Schoen (Hrsg.): Politische Psychologie: Ein interdisziplinäres Forschungsparadigma zur Erklärung politischer Phänomene (PVS Sonderheft 50), Baden-Baden: Nomos, 2015.