Edgar Wagner, representative for data protection and freedom of information in Rhineland-Palatine, gave a talk on "data protection in times of Facebook and Snowden" within Thorsten Faas' "Statistics I" lecture.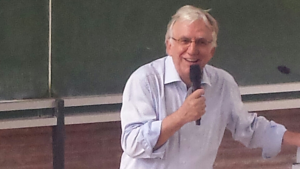 Wagner's task is to ensure data protection concerning the state as well as the private market. In Wagner's words "even the digital world must be able to forget". Oblivion, however, is threatened as data increasingly become an important economic issue. Knowing that it is going to be a long way, Wagner promotes a "European way" in the American-dominated internet as suggested by Frank Schirrmacher.
After his talk, Wagner answered the questions of a very interested audience, who for instance wanted to know how studying at JGU could be possible without leaving data traces. Others were interested in the questions of how Wagner and his colleagues sensitize the younger generation for data protection and why firms are willing to pay enormous sums of money for user data.